Messianic Scripture Songs from Israel, Vol 1 (Audio CD)
Messianic Scripture Songs from Israel CD, Vol 1 - 17 tracks of songs in English and Hebrew.
Item # : CD018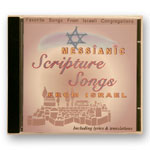 Stock Review
Language:English & Hebrew - In Stock
CD Messianic Scripture Songs From Israel vol. 1

Scripture inspired Messianic music preformed in English.

Lyrics and Translations included!

1. L'chu N'ran'na / Halleluhu (Come Let us Sing for Joy)
2. Praise the Lord
3. Those Who Trust in the Lord
4. Va Ani B'Adonai Eeloza (And I Will Rejoice in the Lord)
5. Lord of the Battle
6. Barchi Nafshi (Bless the Lord O My Soul)
7. Adonai Ro'I (God is My Shepherd)
8. Al Tirau (Do Not Fear)
9. Ein Kamocha (There is None Like You)
10. The Lord is my Light
11. Roll Your Way
12. B'chol Ma'asai (In Everything I Do)
13. Ach el Elohim (Only for God)
14. K'dei Lada'at Oto (In Order to Know Him)
15. Behold What Manner of Love
16. Mi Kamocha (Who is Like Thee)
17. Song for the Night Watchmen


Review this product
Please log into your account to Add Your Comment.