Songs from the Book of Psalms (Audio CD)
Songs from the Book of Psalms CD - 17 tracks of songs in Hebrew. Featuring Hagevatron, Shlomo Artzi, and more...
Item # : CD003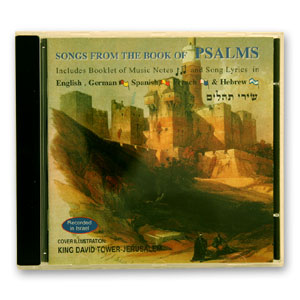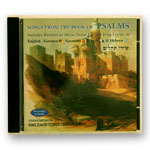 Stock Review
Language:Hebrew - In Stock
CD Songs From The Book Of Psalms

Songs in Hebrew by Hagevatron, Shlomo Artzi, Effi Netzer Singers, Elisheva Shomrom, Eytan Masuri and many others.

1. My Soul Thirsts
2. The Lord Bless You
3. A Psalm of David
4. Lift Up Your Head
5. He Who Keeps Israel
6. Thirsting For God
7. Who Is The Man
8. Thou Didst Cleave
9. Save The People
10. Light Is Sown
11. Let The Heavens Be Glad
12. I Will Lift Up My Eyes to the Mountains
13. The Cup Of Salvation
14. The Sound Of Joyful Shouting
15. When The Lord Returned The Captives
16. Serve The Lord
17. Loving Kindness and Truth



Review this product
Please log into your account to Add Your Comment.