Klezmer-Chassidic Classic (Audio CD)
CD Klezmer-Chassidic Classic - 14 tracks including Hebrew songs and clarinet music of Giora Feidman.
Item # : CD048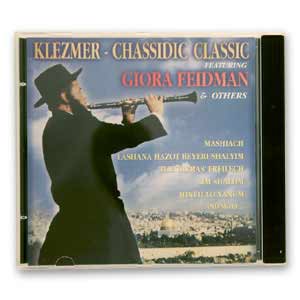 Stock Review
Language:Hebrew - Out Of Stock
CD Klezmer-Chassidic Classic featuring Giora Feidman & others

Instrumental & Songs in Hebrew featuring the Effi Netzer Singers, Shmuel Achiezer, Moti Giladi and others.

1. Erga (Longing)
2. Tfilah Mebeit Aba (A Prayer from Father's Home)
3. Sheyiban'e Beit Hamikdosh (When the temple is built)
4. Hine Lo Yanum (He will not rest)
5. Mashiach (Messiah)
6. Nashir Yachday (Let's sing together)
7. Lashana Hazot Beyerushalayim (This year in Jerusalem)
8. Hafreilach shel tarras (Tarras' Freilach)
9. Hoshia Et Amcha (Save your Poeple)
10. Ivdu Et Hashem (Work for God)
11. Sim Shalom (Make peace)
12. Haben Yakir Li Efraim (My dear son Efraim)
13. Anim Zmirot (I'll sing pleasant hymns)
14. Echad Arba'a Veshna'im Slosha (One, four and two, three)

Review this product
Please log into your account to Add Your Comment.