Israel Celebrated 60 Years of Independence (Audio CD)
CD Israel Celebrated 60 Years of Independence - 21 tracks of songs Hebrew by some of the best loved Messianic artists.
Item # : CD063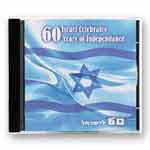 Stock Review
Language:Hebrew - Out Of Stock
CD Israel Celebrates 60 Years of Independence

Performed in English and Hebrew by:
HaGevatron
Effi Netzer Singers
Voices of Israel
Elana Watson
Eitan Masuri
Kibbutz Hama'apil Trio
Jonathan Settel
Regina Zaki
Zamru Lo Singers
Avner & Rachel Boskey
AB Singers

1. Hava Nagila (Let Us Rejoice)
2. Hallelujah
3. Awake O Israel
4. Yerushalayim Shel Zahav (Jerusalem of Gold)
5. Shabechi Yerushalayim (Praise the Lord O Jerusalem)
6. Mizmor Le'David (A Psalm of David)
7. Pray for the Peace of Jerusalem
8. Zion Tamati (Zion, My Innocent)
9. BaShana HaZot BiYerushalayim (This Year in Jerusalem)
10. SheYibane Beit HaMikdash (May The Temple be Rebuilt)
11. Adon Olam (O Lord of All)
12. Nigun Atik (Ancient Melody)
13. Hava Netze BeMachol (Let Us Dance)
14. Halicha LeKeisaria (Eli Eli - My Lord)
15. Blessed be the Lord (Baruch Ata Adonai)
16. Hallelu Hu (Praise Him)
17. Tzam'a Nafshi (My Soul Thirsts)
18. Save Your People
19. Oifen Pripitchik (On the Stove)
20. Hevenu Shalom Aleichem (We Bring You Peace)
21. HaTikvah



Review this product
Please log into your account to Add Your Comment.