Wars of Israel (DVD)
Wars of Israel DVD - Run Time 60 minutes. Formats: PAL (Asia, Africa, Europe, South America and Oceania). Language Tracks: English, French, Swedish, Spanish, German, Hebrew, Russian
Item # : DV002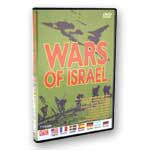 Stock Review
Format:NTSC - Out Of Stock
Format:PAL - Out Of Stock
Wars Of Israel DVD

The War of Independence 1948, The Sinai campaign 1956, The Six Day War 1967, The War of Attrition 67-70, Yom Kippur War 1973, Invasion of Lebanon War 1982, The Gulf War 1991, The First Palestinian Intefada 1987-93, Second Palestinian Intefada 2000.

Take a comprehensive look at Israel's war-torn history from the day of her founding all the way up to the present. Wars of Israel brings together original military and media footage, private interviews with prominent political figures, famous speeches, and an in-depth examination of the biblical, historical, and political roots of the Mid-East conflict to give you a thorough understanding of the major issues in the region today.

In 1948, armed with more faith than firearms, young new immigrants from Europe defeated five heavily equipped Arab nations to bring their homeland into existence. Since then, their tiny nation has displayed a military genius unrivaled in the history of warfare. Wars Of Israel presents you with the complete story of Israel's miraculous survival, with the still-living legends of individual courage, with one impossible victory after another, and with the question: When will peace be victorious in the Middle East?Run time: 60 minutes

Language tracks: English, French, Swedish, Spanish, German, Hebrew, Russian.

Available in PAL only. PAL, good for use in Asia, Africa, Europe, South America and Oceania including GREAT BRITIAN, GERMANY, NETHERLANDS,SPAIN, SOUTH-AFRICA, ITALY, SWEDEN, AUSTRALIA, ISRAEL, ARGENTINA, NORWAY, BELGIUM and SWITZERLAND.

Review this product
Please log into your account to Add Your Comment.