The History of Jerusalem (DVD)
The History of Jerusalem DVD - Run Time 60 minutes. Formats: PAL (Asia, Africa, Europe, South America and Oceania). Language Tracks: English, French, Spanish, Hebrew, German, Portuguese, Russian
Item # : DV031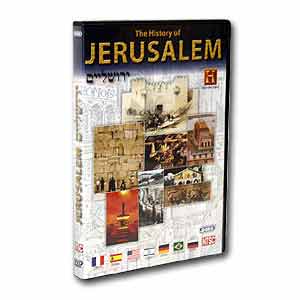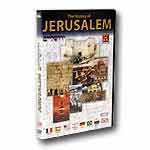 Stock Review
Format:NTSC - Out Of Stock
Format:PAL - In Stock
The History of Jerusalem DVD

Jerusalem, The City of Peace.

For thousands of years this city has been the spiritual center of the world's three great religions: Judaism, Christianity, and Islam.

But what makes it so unique?

What secrets are buried beneath the Old City's ancient walls, homes, tiny alleys and shops?

What mysteries still lie hidden far from the tourists' view?

To answer these questions, and more, we invite you to join us:

- Walk the footsteps of Abraham, who came to Mount Moriah - the Temple Mount - ready to sacrifice his only son to God.
- Witness what the city was like at the time of the great kings, David and Solomon, who designed and built Jerusalem's great temple.
- Follow the pathways Jesus walked as he spread this message from the city to the whole world - and took his last journey along the Via Dolorosa as he was lead to crucifixion.
- See where Mohammed, as the Koran tells us, ascended to heaven from the Dome of the Rock in the Noble Sanctuary.

All this as we ponder the greatest questions of all: why, of all places on earth, has Jerusalem been singles out to become the world's holy city?

Language tracks: English, French, Spanish, Hebrew, German, Portuguese, Russian

Run time: 60 minutes

Available in PAL only. PAL, good for use in Asia, Africa, Europe, South America and Oceania including GREAT BRITIAN, GERMANY, NETHERLANDS,SPAIN, SOUTH-AFRICA, ITALY, SWEDEN, AUSTRALIA, ISRAEL, ARGENTINA, NORWAY, BELGIUM and SWITZERLAND.
Review this product
Please log into your account to Add Your Comment.