The Story of Yom Kippur War(DVD)
The Story of Yom Kippur War DVD - Run Time 90 minutes. Formats: PAL (Asia, Africa, Europe, South America and Oceania). Language Tracks: English, French
Item # : DV004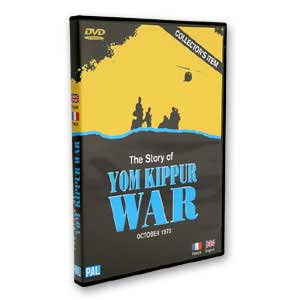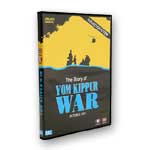 Stock Review
Format:NTSC - Out Of Stock
Format:PAL - Out Of Stock
The Story of Yom Kippur DVD

In 1973, on Yom Kippur, Israel's largest enemies joined together to strike her in a surprise attack that left the tiny nation pathetically outnumbered. Warnings of attack had gone unheeded, for it was too unbelievable that even the most heartless foe would declare war on the holiest day in the Jewish year.

This black day marked the beginning of what was to become one of Israel's most fatal wars. Against far more advanced Soviet weapons, the entire populace of Israel rushed from their synagogues to the battlefronts to defend the Jewish Homeland with whatever they had. Yet despite the rapid defeat of the Arab forces, this war -more than any other -would leave a lasting scar on the hearts and minds of the Jewish people.

Out of the darkness and betrayal have come countless stories of heroism, marvelous defeats, legendary victories, and most of all: miraculous survival. The Story of the Yom Kippur War carries you through those suspenseful days - from warning to cease fire - with detailed maps, clearly illustrated attack points, and up-close footage from both the home and the war fronts.

Run Time: 90 minutes

Language tracks: English, French

Available in PAL only. PAL, good for use in Asia, Africa, Europe, South America and Oceania including GREAT BRITIAN, GERMANY, NETHERLANDS,SPAIN, SOUTH-AFRICA, ITALY, SWEDEN, AUSTRALIA, ISRAEL, ARGENTINA, NORWAY, BELGIUM and SWITZERLAND.
Review this product
Please log into your account to Add Your Comment.