Mary of Nazareth (DVD)
Mary of Nazareth DVD - Run Time 60 minutes. Formats: NTSC or PAL. Language Tracks: English
Item # : DV016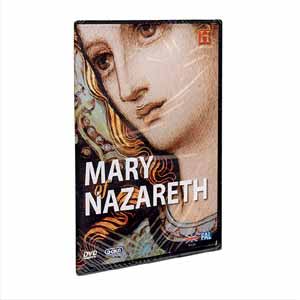 Mary of Nazareth DVD

This is the portrait of the most revered woman in history - Mary of Nazareth. Although mentioned by name only 21 times in the entire Gospels, over the centuries Mary has been hailed as the Mother of God, Blessed virgin, Queen of Heaven and Madonna.

Yet all these titles reveal about the life of the young Jewish woman in the land of Israel 2,000 years ago who would acheive such elevated status. For Mary, like all young women in Nezareth, engagement would have been a big moment in life. Her betrothel to Joseph around the age of 13 was not unusual - but what took place shortly after would change the course of history. Mary's first recorded words are her amazed response to the angel's announcement that she would give birth to Jesus, "How will this bee... since I am a virgin?" Mary could have refused , complained or even expressed disbelief. Instead she simply said she was ready to do God's will, "I am the Lord's servant", (Luke 1:34 & 38)

As a young, unwed, pregnant teenager, how did Mary face the possibility of being stoned to death by her community? How did her parents, friends and relatives react to her pregnancy? More importantly, how did Joseph, her fiance respond?

Mary faced many fears in her life - first during pregnancy and then, after the birth of Jesus, King Herod attempted to kill the new born king by ordering the murder of all Bethlehem infants under three years of age. Later, the mother of Jesus watched as her son was mocked and ridiculed. But she stood by him through to the end and was one of the few who were with him when he died on the cross at Calvary.

This film looks at all this and what may be the most important aspect of Mary's story - that she offers a vision of the feminine face of God.

Language tracks: English

Run time: 1 hour

Available in PAL and NTSC formats

NTSC, good for USA, CANADA, JAPAN, MEXICO, PERU, VENEZUELA, KOREA, BRAZIL, CHILE, COLOMBIA, GUATEMALA and the PHILIPPINES.

PAL, good for use in ENGLAND, GERMANY, NETHERLANDS,SPAIN, SOUTH-AFRICA, ITALY, SWEDEN, AUSTRALIA, ISRAEL,ARGENTINA, NORWAY, BELGIUM and SWITZERLAND.


Review this product
Please log into your account to Add Your Comment.