In the Footsteps of Jesus (DVD)
In the Footsteps of Jesus DVD - Run Time 60 minutes. Formats: PAL (Asia, Africa, Europe, South America and Oceania). Language Tracks: English, Spanish, German, Indonesian, Chinese and 15 other languages
Item # : DV033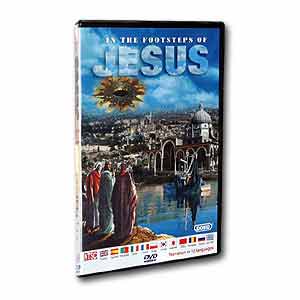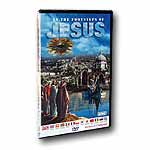 Stock Review
Format:NTSC - Out Of Stock
Format:PAL - Out Of Stock
DVD In the Footsteps of Jesus

This thrilling one-hour film chronicles the Footsteps of Jesus.

Join the magnificent Journey of Mary and Joseph to Bethlehem.

Visit the Church of the Nativity to relive the birth of Jesus, 2000 years ago – and walk the street of Nazareth where He grew up.

See the Jordan river where he was Baptized…the Church of the Beatitudes where He gave the Sermon on the Mount…and the site of the miracle of the Loves and the Fishes.

Then climb the slopes of Mt. Tabor – the Mountain of Transfiguration – where Jesus revealed Himself in the fullness of His glory.

Join Christ's entry to Jerusalem. See where HE chased out the moneychangers from the sacred Temple. Visit the Mt. of Olives, feel the emotion of the Room of the Las Supper. Follow His agonizing walk through the streets of Jerusalem on His way to crucifixion and death on the cross.

Walk with Mary Magdalene as she realizes that His tomb is empty and that Christ has risen. Hear His last words: "Behold I am with you, even to the end of the World" as they echo to us down through the millennia.

Language Tracks: English, Spanish, Portuguese, Italian, French, Dutch, German, Indonesian, Arabic, Polish, Hungarian, Czech, Finnish, Chinese, Romanian, Norwegian, Danish, Greek, Swedish

Run time: 60 minutes

Available in PAL only. PAL, good for use in Asia, Africa, Europe, South America and Oceania including GREAT BRITIAN, GERMANY, NETHERLANDS,SPAIN, SOUTH-AFRICA, ITALY, SWEDEN, AUSTRALIA, ISRAEL, ARGENTINA, NORWAY, BELGIUM and SWITZERLAND.
Review this product
Please log into your account to Add Your Comment.