The Messianic Seal of the Jerusalem Church
The Messianic Seal of the Jerusalem Church by Reuven Efraim Schmalz & Raymond Robert Fischer. 100 pages. Soft Cover.
Item # : BK035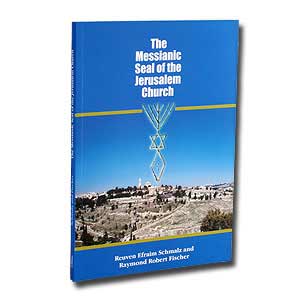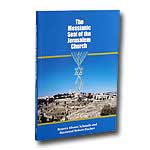 Stock Review
Language:English - In Stock
The Messianic Seal of the Jerusalem Church

By Reuven Efraim Schmalz and Raymond Robert Fischer

Lost to the Jewish people since 135 CE
Buried for millennia by the Church!
Key to understanding the Dead Sea Scrolls!
Resurrected after nearly 2000 years of silence, from an ancient grotto adjacent to the very first Christian Church on Mount Zion!

Scribed and drawn on ceremonial artifacts most likely used by Pastor James the Just, the brother of Jesus and the Twelve Apostles!

The ancient three part symbol: Menorah, Star of David and Fish, once again proclaims to the world the pervasive Jewishness of Jesus Christ and the decidedly Jewish foundation and roots of the church founded in His name.

The Messianic Seal of the Jerusalem Church strikes at the very roots of anti- Semitism while proclaiming a compelling message that breaks down barriers and restores unity: Jew with Jew, and Jew with Gentile.

In their monumental work, Reuven Schmalz presents a fascinating and exciting historical account leading up to the founding of the first century Jerusalem Church on Mount Zion until its final disappearance in the fourth century. Bob Fischer then presents a compelling biblical interpretation on the meaning of the ancient three- part symbol and its contemporary relevance to the Church and the world beyond.

A must read for all Christians!

Soft Cover

English

Pages: 100
Review this product
Please log into your account to Add Your Comment.