My Father's House
My Father's House. The autobiography of Yigal Allon. 204 Pages.
Item # : BK018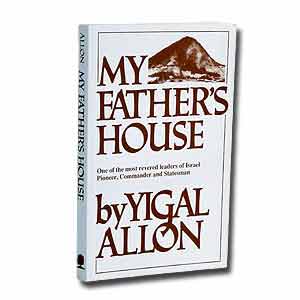 Stock Review
Language:English - In Stock
My Father's House

The autobiography of Yigal Allon

Born in 1918 into the fabric of Arab-Jewish frontier life at the foot of Mt. Tabor, Yigal Allon rose to become one of the founding figures of the state of Israel and an architect of its politics. Allon became commander in 1945 of the Palmah--an elite unit of the Haganah, the semilegal army of the Jewish community--during the struggle against the British for independence. In the 1947-49 War of Independence against local and invading Arab armies, he led the decisive battles that largely determined the borders of Israel. Paradoxically, his close lifelong relations with Arab neighbors did not prevent him from being a chief agent of their sizable displacement.

Excerpt from My Father's House:

I dismounted in silence, tied my horse to the pole and we went over to the porch. We sat down. All the phrases I'd worked out, all the prologues I'd prepared in advance took wing, and I simply began to talk, with no roundabout preliminaries, about my decision to go to the Kibbutz.

I expected him to object, to insist that I reconsider, but he didn't make a sound. With his eyes on mine and his head slightly bowed, he sat across from me and listened to the verdict. There was a thick silence between us -- I don't know if it lasted a few minutes or many, but is seemed a long, long time to me.

Then all at once he raised his head and said: "You're old enough to decide where you're going. I didn't ask my father what to do either. I'm saying here!... Can you picture me anywhere else but Kefar Tavor?"

English translated from Hebrew

Pages: 204


Review this product
Please log into your account to Add Your Comment.