Enter His Gates: To Your Jewish Roots
Enter His Gates: To Your Jewish Roots by Susan Marcus. 93 pages
Item # : BK001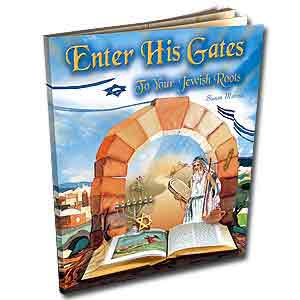 Stock Review
Language:Indonesian - In Stock
Language:English - Out Of Stock
Language:German - Out Of Stock
Language:Spanish - Out Of Stock
Language:Japanese - In Stock
Language:Dutch - Out Of Stock
Language:Portuguese - Out Of Stock
Enter His Gates To Your Jewish Roots

By Susan Marcus

What is a mezuzah? Is Chanukah the Jewish Christmas? Can I wear the prayer shawl?
As you enter His gates on your journey, it is my hope that this book will encourage and enrich your spiritual walk.
"Won't you follow me, please."

All over the world, followers of Yeshua (Jesus) are showing an enthusiasm and eagerness to learn more about the Jewish foundations of their Faith and are aspiring to understand the Roots of His teachings.

Contained within these pages are tools for the reader to use to "Enter His Gates." Through this book readers will discover the answers to many questions about how, why and with what Jesus celebrated his Faith. The explanations in Enter His Gates are colorful, inviting and easy to read and understand. This is a book to be used and enjoyed. Readers are taken on an introductory journey through celebrations, blessings and the traditional objects used in Biblical times by Jesus and His Disciples and still in use today in Jewish homes and synagogues. For each object or celebration discussed, the reader will find illustrations, stories and prayers. There are even traditional recipes for the reader to try and activites to be played. After reading this book, readers will be able to create holiday celebrations and use the objects Jesus used in His devotions to the Almighty!
Soft Cover (except Dutch which is Hard Cover)

Available in Languages: English, Japanese, Indonesian
Pages: 93
Review this product
Please log into your account to Add Your Comment.