Beautiful Plants of the Bible
Beautiful Plants of the Bible. Text and Photographs by David Darom. 48 pages
Item # : BK012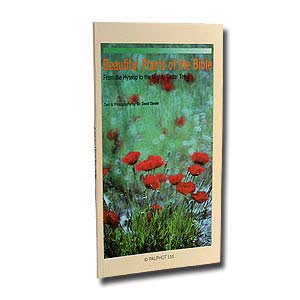 Stock Review
Language:English - In Stock
Language:German - In Stock
Beautiful Plants of the Bible
From the Hyssop to the Mighty Cedar Trees

Text and Photography by: Dr. David Darom

Over 100 kinds of plants are mentioned directly or indirectly in the New and Old Testaments of the Bible. Some of the plants, as named or described in the Holy Scriptures, create no problem to researchers while the additional plants mentioned in the Bible have been open to speculation for many generations.

Much contradictory material has been written on the subject, especially since botanists and theologians do not always see eye to eye where the Holy Scriptures are concerned.

The author, Dr. David Darom, a marine biologist and one of the leading professional nature photographers in Israel, has pursued this fascinating subject for many years while living in the land where it all happened and reading the Bible in the language in which it was originally written.

Here he has managed to discover most of the species still actually growing in their wild state, although many of them have nowadays become extremely rare to find.

This high quality photographic record of the most beautiful plants mentioned in the Bible for nature and Bible lovers throughout the world.

Soft Cover

Available in: English, German

Pages: 48

Dr. Darom was born in 1943 and lives in Jerusalem with his wife and four children. He has published many photographic books on marine biology and botany.

Review this product
Please log into your account to Add Your Comment.