Jerusalem In The Year 30 A.D.
Jerusalem In The Year 30 A.D by Leen & Kathleen Ritmeyer. 72 Pages
Item # : BK056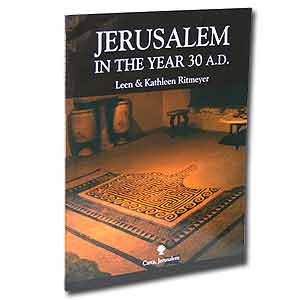 Stock Review
Language:English - Out Of Stock
Jerusalem In The Year 30 A.D.

Leen & Kathleen Ritmeyer

Open up the world of Jerusalem in the first century with Jerusalem in the Year 30 A.D. The combination of artistic restorations and on-site photographs transport you back almost 2000 years. See the remains from the period preserved in and around the present-day walls of Jerusalem. Then walk the streets of the city in the time of Jesus with the minutely detailed reconstruction drawings.

Locations depicted include the Pool of Siloam, site of Jesus' healing of the blind man; the Bethesda Pools, where the man paralyzed for 38 years was healed; and the Palatial Mansion where it is likely Jesus was interrogated by the priests and elders while Peter waited in the courtyard outside. Alternative routes for the "Via Dolorosa" and the two sites identified as Golgotha are also shown.

Leen and Kathleen Ritmeyer met in 1975 on the Temple Mount excavations in Jerusalem where Leen served as site architect. Leen holds on MA from the University of York and a PhD from the University of Manchester. His archeological reconstruction drawing have appeared in numerous books and journals. He teaches at the University of Leeds in Britain and at Trinity College, Albuquerque, New Mexico.

Kathleen holds a BA degree in Archeology from University College, Dublin. In addition to the Temple Mount dig, she has participated in excavations in Ireland, Scotland and Israel. She has designed audio-visual shows on the Dead Sea Scrolls and other topics.

Soft Cover

English

Pages: 72

Review this product
Please log into your account to Add Your Comment.