Fresh Flavors from Israel. 60 Recipes. Soft Cover.
Fresh Flavors from Israel. 60 Delicious Souvenirs from the Land of Milk and Honey.
Item # : BK173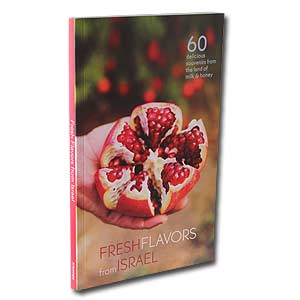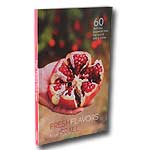 Stock Review
Language:English - Out Of Stock
Fresh Flavors from Israel Cookbook

Israel today is a feast for food lovers, a culinary melting pot of traditions from Europe, North Africa and the Middle East. Markets abound with choice seasonal produce, restaurants creatively blend Middle Eastern cuisine with international culinary trends, cafes are fragrant with freshly baked cakes and quality coffee, and streets are lined with snack stands selling everything from shawarma to local artisan pastries.



This stunning new book brought to you by Al Hasulchan, Israel's premier food and wine magazine, offers a glimpse into one of the most facsinating and varied cuisines in the world with over 60 delicious easy-to-follow recipes and lots of tips and information on special ingredients and spices.


Janna Gur Chief Editor of Al Hashulchan magazine and author of the best selling book The Book of New Israeli Food, has put together a fscinating collection of local dishes, featuring recipes by leading Israeli writers about food:

Orly Pely-Bronshtein Chef and veteran food journalist, senior food editor at Al Hashulchan Magazine, and the author of numerous cookbooks including the best seller Kitchen Helper (Sheshet) series.

Ruth Oliver Chef and Pastry Chef and a permanent contributor to Al Hashulchan Magazine, teacher at leading cooking schools, and author of several cookbooks including More Chocolate and Cheese Cakes.

Shaily Lipa-Angel Cookbook author and permanent contributor to Al Hashulchan Magazine, auhtor of Simply Entertaining and Holiday Cooking.

Fresh Flavors from Israel also features recipes by leading Israelii chefs, including Guy Peretz, Erez Komarovsky, Avi Steinitz and Segev Moshe.

140 pages

Including a recipe index.



Review this product
Please log into your account to Add Your Comment.