Hebrew For Everyone CD
Hebrew For Everyone CD. The must have companion to the workbook of the same name.
Item # : BK047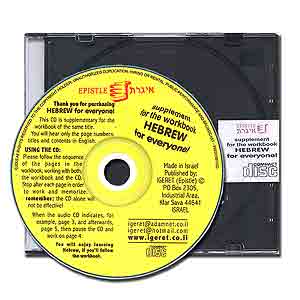 Stock Review
Language:Hebrew - In Stock
CD Hebrew For Everyone

Knowing Hebrew will give you a special understanding about Israel, the Jewish people and the Bible!

This CD is supplementary for the workbook of the same title. You will hear only the page numbers, titles and contents in English.

Please follow the sequence of the pages in the workbook, working with both, the workbook and the CD. Stop after each page in order to work and memorize.

Remember: the CD alone will not be effective!

This Guide is for you -- beginners and scholars alike! "Hebrew for everyone" teaches the language from the Biblical point of view, using modern Hebrew!

What's in a name? Did you know that the names in the Bible have a special meaning?

THE BIBLICAL FEASTS How are they linked to the New Testament?

GREETINGS Knowing to greet in Hebrew, on any occasion, could touch hearts….

In this study guide you will learn: CONCEPTS, EXPRESSIONS, VERBS, SENTENCES, NUMBERS, READING, WRITING and more ….

We offer you pleasant hours of study. "HEBREW for everyone" is presented in a friendly and interesting way.

Review this product
Please log into your account to Add Your Comment.