Bible Art by Gustave Doré. The Bible. Old Testament.
The Bible. Illustration of the Old Testament by Gustave Doré. 273 pages
Item # : BK161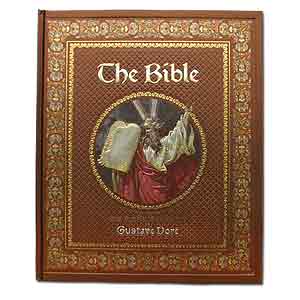 Stock Review
Language:English - Out Of Stock
The Bible

Bible art by the famous French artist Gustave Doré. A magnificent edition of the bible illustrated. Old Testment.
Design and color by Raymond Cintas.

Hard Cover.

Dimesions: 9.1/2 x 11.1/4 inches / 24 x 29 cm
Doré's realistic style breathes new life into the biblical stories. Gustave Doré's work and illustrations stand the test of time as good physical representations of important Biblical events.

Each illustration is accompanied by the relevant Scriptures from the Old Testament.

From the first pages of the book: "Gustave Doré's illustrations of the Old and New Testament scenes became the formative visions of scripture in most homes in the new world, and it is widely accepted today that Doré is vastly responsible for our collective imagery of biblical scenes. This is evident even throughout popular culture; Doré's engravings adorned the cover of Time Magazine, and his artistic style greatly influenced some of the early biblical films....

...Doré's true vidication as a painter came only after his death, when over 1.5 million people visited the Doré exhibition at the Art Institute of Chicago in 1986. In this current edition of Doré's biblical illustrations, his engravings are brought before us in exquisite quality and colors that bring back to life the artist's exceptional imagery of the book of books."
Review this product
Please log into your account to Add Your Comment.