Old Testament - Hebrew/English, Leather Cover
The Bible. Old Testament. Hebrew/English. Hand Made Leather Cover.
Item # : BB004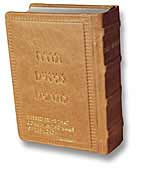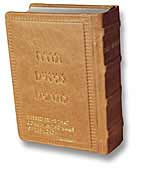 Stock Review
Cover:Tan Leather Language:English and Hebrew - In Stock
Cover:Brown Leather Language:English and Hebrew - In Stock
Old Testament Bible

Hebrew and English, side by side

Hand made leather cover imprinted in Gold with "Blessed be he that cometh in the name of the Lord" (Ps.118:26)

The Old Testament is also called the Jewish Bible. In Hebrew it is referred to as The Tanakh. The Hebrew content is written in the Masoretic Text which is universally regarded as the official version of the Tanakh.

The Tanakh is in three subdivisions:

Torah - "Teaching" (also known as the Five Books of Moses)
Nevi'im - "Prophets"
Ketuvim - "Writings"

Leather Cover. Bible comes in a cardboard Bible holder.
Review this product
Please log into your account to Add Your Comment.