New Testament and Psalms - English, Olive Wood Cover
The New Testament and Book of Psalms. English. Olive Wood Cover embossed with Tabgha. King James, Authorized Version. Size: 4 1/4 x 2 3/4 x 1 inches | 11 x 7 x 2.5 cm
Item # : BB021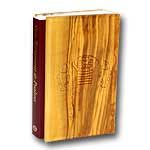 Stock Review
Cover:Olive Wood Language:English Size:Small - In Stock
New Testament Bible with Psalms

English, Mini Book
King James, Authorized Version.

The New Testamenty was written originally in Greek and recording the life and teachings of Jesus and his earliest followers. It includes the four Gospels, the Acts of the Apostles, twenty-one epistles by St. Paul and others, and the book of Revelation. This translation into English is the King James Version as authorized by the Anglican Church.

The Book of Psalms consists of 150 psalms, each of which constitutes a religious song, though one or two are atypically long and may constitute a set of related chants. For many, the Book of Psalms comprises some of the most beautiful words of the Bible.

Holy Land Olive Wood Cover embossed with an image of the Mosaic of Tabgha, the location of the Miracle of Fishes and Loaves on the front and "Jerusalem" on the back.

Bible printed in England, Olive wood cover created and applied in Israel.

Pages: 627
Size: 4 1/4 x 2 3/4 x 1 inches | 11 x 7 x 2.5 cm
Review this product
Please log into your account to Add Your Comment.