Promised Land Spies Silver Mini-Figurine
Silver Plated Promised Land Spies - A figurine of Caleb and Joshua, 2 of the 12 spies sent into Canaan as scouts. After forty days, they returned to the Israelite camp, bringing back grapes and other produce as samples of the regions fertility. 2 sizes available.
Item # : DC030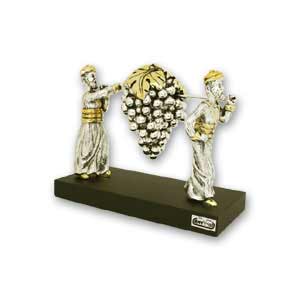 Stock Review
Size:Large - Out Of Stock
Size:Small - In Stock
Silver Plated Promised Land Spies

Mini-figurine representing the Spies God told Moses to send to the Promised Land, "The Lord said to Moses, "Send some men to explore the land of Canaan, which I am giving to the Israelites. From each ancestral tribesend one of its leaders." Numbers 13:1-2

When they returned only Caleb and Joshua's faith were strong enough to believe that God would protect them in this new promised land, "There they reported to them and to the whole assembly and showed them the fruit of the land. They gave Moses this account: "We went into the land to which you sent us, and it does flow with milk and honey! Here is its fruit." Numbers 13:26-27 "Then Caleb silenced the people before Moses and said, "We should go up and take possession of the land, for we can certainly do it." Numbers 13:30

Display this lovely mini-figuine to tell the story of the spies and the importance to have faith in the Lord and that He will provide for His faithful.

Available in two sizes:
Small - 4 x 6 inches / 10 x 15 cm
Large - 6 1/4 x 8 1/4 inches / 16 x 21 cm
More information about Silver Miniatures you can
find here
.
Review this product
Please log into your account to Add Your Comment.