The Holy Covenant Mini-Figurine
Silver Plated Holy Covenant Mini-figurine. The Holy Covenant silver plated mini-sculpture with golden highlights. a Biblically-inspired decorative piece from Deuteronomy 10:8 of Levites carrying the Ark. Available in 2 sizes.
Item # : DC031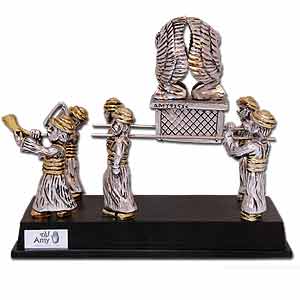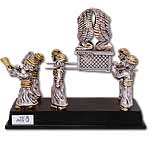 Stock Review
Size:Small - In Stock
Size:Large - In Stock
The Holy Covenant Mini figurine
Silver and gold plated mini-figurine of the Ark of the Covenant.

Inspired by scripture, "At that time the Lord set apart the tribe of Levi to carry the ark of the covenant of the Lord, to stand before the Lord to minister and to pronounce blessings in his name, as they still do today." Deuteronomy 10:8 Display this gorgeous piece to show that you honor God's Word and Laws always.
Please note: Mumber of men may very

Dimensions:
Small: 7 x 3 1/4 x 5 1/2 inches | 18 x 8.5 x 14 cm
Large: 11 1/2 x 5 x 8 3/4 inches | 29 x 13 x 22 cm


For more information about Silver Figurines click here.
Review this product
Please log into your account to Add Your Comment.