Ten Commandments Poster
Ten Commandments Poster. 27 x 19 inches / 68.5 x 48.25 cm
Item # : PO001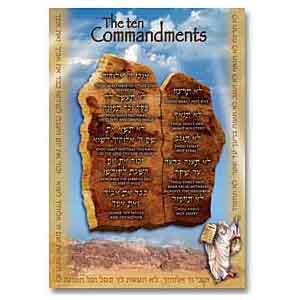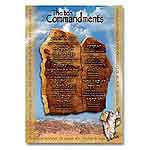 Stock Review
Language:English - Out Of Stock
Ten Commandments Poster

The stone tablets with the Negev skies as background (the southern side of the Holy Land, where there is a desert). Moses is holding the tablets on the low right corner and lifting his left arm to the sky as he did when instructing the Lord's Commandments to the people of Israel. The Commandments are written in Hebrew along the frame of the picture as well.

Printed on poster paper

Size: 27 x 19 inches / 68.5 x 48.25 cm
The Ten Commandments -- the ultimate list G-d's moral imperatives for
Man.
According to Biblical tradition, they were given by God to Moses on Mount Sinai in the form of two stone tablets. The Ten Commandments are important and feature prominently in both Judaism and Christianity. It is imperative not to the forget these that were given by God.

The Ten Commandments poster is a wonderful daily reminder. Great for the classroom too!
Review this product
Please log into your account to Add Your Comment.