Pomegranate Hamsa, wall hanging by Alla Pikovski.
Pomegranate Hamsa, wall hanging. Laser cut metal hand painting. 21.5 cm x 30.5 cm / 12 x 18.4 inches.
Item # : DC275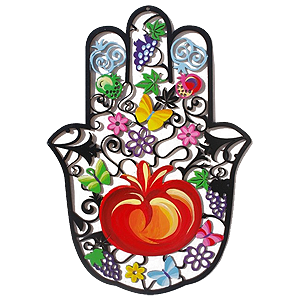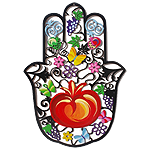 Stock Review
Size:10 x 14 inches - Out Of Stock
Pomegranate Hamsa

.

Piece of art by an Israeli artist Alla Pikovski. Laser cut and hand painting.

Artist Alla Pikovski draws and sketches, as well as producing computer graphics and laser-cut metals full of splendor, bright colors and vitality.

Hamsa is often called the "Hand of G-d", but it is also known by other names - Hand of Miriam (the sister of Moses and Abraham), Protecting Hand.

Hamsa is from Hebrew word "hamesh", meaning five - as five fingers of the hand. It's a protective symbol, showing G-d's protection over you. Wearing or decorating your hose with Hamsa can bring peace and tranquility, because it's a reminder of constant love and protection from G-d.

Jewish tradition teaches that the pomegranate is a symbol of righteousness because it has 613 seeds, and there are 613 mitzvot, or commandments, of the Torah. It is very customary to eat pomegranate on Rosh Ha Shana (Jewish New Year). Also, the pomegranate represents fruitfulness and wisdom.

Dimensions: 21.5 cm x 30.5 cm / 12 x 18.4 inches.

Note regarding shipping of this item:

Please allow two additional weeks for delivery. This piece is especially made for you upon ordering.
Review this product
Please log into your account to Add Your Comment.