Jerusalem New Hamsa. Original Art Work by Alla Pikovski.
Jerusalem New Hamsa. Original Art Work by Alla Pikovski. Size: 29.5 x 5 x 26.5 cm / 11.6 x 2 x 10.4 inches.
Item # : DC272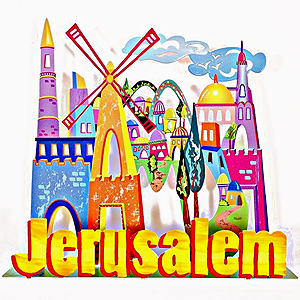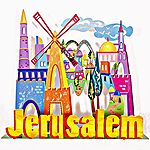 Stock Review
Size:12 x 28 inches - Out Of Stock
Jerusalem New Hamsa.
Unique and colorful Hamsa, depicting Jerusalem made by an Israeli artist Alla Pikovski.
2 layers of laser cut metal. hand painted and print.
Dimensions:
Width: 29.5 cm x 11.6 inches
Depth: 5 cm x 2 inches
Length: 26.5 x 10.4 inches
Artist Alla Pikovski draws and sketches, as well as producing computer graphics and laser-cut metals full of elegance, bright colors and aesthetic beauty.
Hamsa is often called the "Hand of G-d", but it is also known by other names - Hand of Miriam (the sister of Moses and Abraham), Protecting Hand.
Hamsa is from Hebrew word "hamesh", meaning five - as five fingers of the hand. It's a protective symbol, showing G-d's protection over you. Wearing or decorating your hose with Hamsa can bring peace and tranquility, because it's a reminder of constant love and protection from G-d.
Note regarding shipping of this item:
Please allow two additional weeks for delivery. This piece is especially made for you upon ordering.
Review this product
Please log into your account to Add Your Comment.