The Flowers & Butterflies Chanukiah by Alla Pikovski.
The Flowers & Butterflies Chanukiah by Israeli Artist Alla Pikovski.
Item # : DC270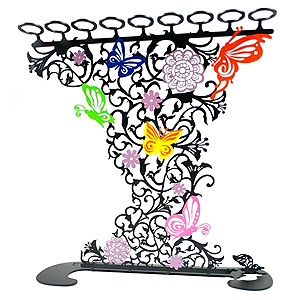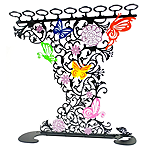 Stock Review
The Flowers & Butterflies Chanukiah.
Beautiful lace Chanukiah made by an Israleli Artist Alla Pikovski. Laser cut metal , 2 sides hand painted.
Artist Alla Pikovski draws and sketches, as well as producing computer graphics and laser-cut metals full of splendor, bright colors and vitality.
The Chanukiah is a candelabrum used specifically for Chanukah, the Jewish Festival of Lights.The Chanukiah is only used during Chanukah while the Menorah is used in synagogues all year round.
Each Chanukiah is unique, one of a kind.
9 candle holders made of Aluminum are included (for candle / oil).
Width: 30 cm / 11.8 inches
Depth: 10.5 cm x 4 inches
length: 32 cm x 12.6 inches
Note regarding shipping of this item:
Please allow two additional weeks for delivery. This piece is especially made for you upon ordering.
Review this product
Please log into your account to Add Your Comment.