"Bicycles - The Race" by Marina Zlochin
"Bicycles - The Race" by Marina Zlochin. 3D tabletop Metal Sculpture. 2 Metal Layers. Size: 7 3/4 x 17 3/4 x 1 1/2 inches | 19.8 x 45.2 x 4 cm
Item # : DC277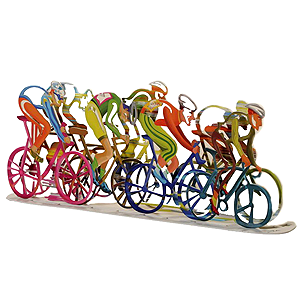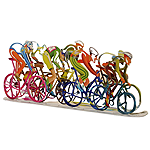 Stock Review
Size:8 x 16 inches - Out Of Stock
"Bicycles - The Race"
3D Tabletop Metal Sculpture by an Israeli artist Marina Zlochin.
Created in 2 Metal Layers.

Size: 7 3/4 x 17 3/4 x 1 1/2 inches | 19.8 x 45.2 x 4 cm

Marina shows her artistic view of life in creating sculptures in a broad and captivating spectrum of colors, brimming with spirals and unique designs. Her work is something in between of pop art and caricaturist illustration. It is adorning, quite ironic and always empathic, colorful, full of life and optimism. The bright and spectacular colorfulness of her works takes the viewer away on a journey into a positive, lighthearted and full of joy world. Her creations are a complex process that begins with a two-dimensional drawing, is followed by laser cutting and then by hand painting or screen printing the sculpture. Marina's "wall sculptures" or "table sculptures" have volume and are sometimes double sided and consisting of several layers. This way of sculpturing builds depth and creates a feeling of movement.

Note regarding shipping of this item:
Please allow two additional weeks for delivery. This piece is especially made for you upon ordering.
Review this product
Please log into your account to Add Your Comment.