Shabbat and Holiday Tablecloth. 3 sizes
Love patterned cream colored tablecloth specifically for Shabbat and Holidays. Available in three sizes (see description below). Stain resistant. Made in Jerusalem.
Item # : KN008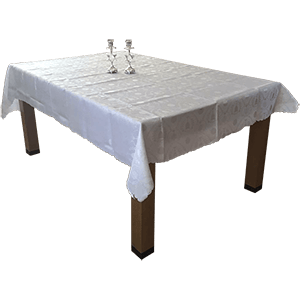 Shabbat and Holiday Tablecloth

Lovely traditional tablecloth for your holiday and Shabbat table. The tablecloth has a pattern with menorahs and kiddush cups and the phrases "שבת שלום" (Shabbat Shalom) and "חג שמח" (Chag Sameach - Happy Holiday) in Hebrew. It will make the perfect setting as you celebrate the Yom Tovs, God's Good Days.

Made of 100% polyester, the tablecloth is stain resistant, machine washable, will not shrink, no iron and color fast. It is an easy tablecloth to own as its care is simple.

Best of all is is MADE IN JERUSALEM!

Three sizes available, all rectangular:
Small = 145 x 200 cm | 57 x 78 3/4 inch (fits a 36 x 60 inch table)
Medium = 145 x 240 cm | 57 x 94 1/2 inch (fits a 36 x 72 inch table)
Large = 145 x 300 cm | 57 x 118 inch (fits a 36 x 96 inch table)
Review this product
Please log into your account to Add Your Comment.