Ancient Mosaic Drink Coasters, Set of 6
Drink Coasters. Ancient Mosaics. Set of six.
Item # : DC0605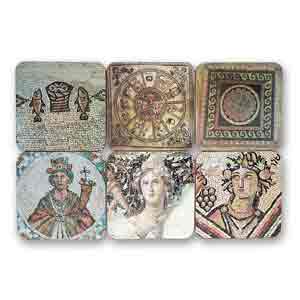 Stock Review
Israel Mosaic Table Coasters

6 Coaster Set

Each coaster features one of the most important mosaics discovered at Israeli archeological sites:

Zodiac Mosaic from Beit Alpha.
Loaves and Fishes Mosaic from Tabgha.
Dionysiac Mosaic from Zippori.
Massada Mosaic
Tyche the guardian Goddess of the City Mosaic from Beit Alpha.
Beit She'an Mosaic

Review this product
Please log into your account to Add Your Comment.