Three Symbols Gold-filled Pendant
Three Symbols Pendant, Gold-filled: Star of David, Menorah and Fish
Item # : PN464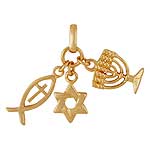 Stock Review
Material Color:Yellow Gold Size:One Size Top Color:Gold - Out Of Stock
Three Symbols Gold-filled Pendant
by Israeli jewelry designed Marina
The symbols of the Star of David, the Menorah and the Fish are emblems of faith. Traditionally, the Star of David and the Menorah are symbols of Judaism and the Fish is a symbol of Jesus and Christianity. However, it is known that the first century followers of Jesus used these symbols and practiced the traditions that these symbols represent. All of these symbols were consequently combined into one symbol that has come to be known as the Messianic Seal or Grafted In. It shows that all Believers in Jesus come from the same roots and are part of the same faith. We are all one nation of faithful.
This gold-filled pendant consists of three individual charms: the Star of David, the Menorah and the Fish. In a way this can be considered a deconstructed Grafted In clearly showing each element of the renowned symbol, but tied together as one.
Approximate dimensions: 1/2 inch x 1/4 inch | 1.3 cm x .5 cm

Review this product
Please log into your account to Add Your Comment.