Gold-filled Star of David Menorah Pendant
Star of David Menorah Pendant, Gold-filled with Blue Enamel
Item # : PN443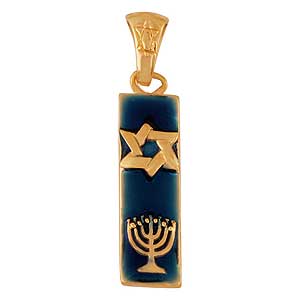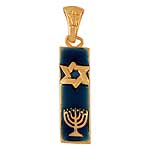 Stock Review
Material Color:Yellow Gold Size:One Size Top Color:Gold - In Stock
Gold-filled Star of David Menorah Pendant
by Israeli Jewelry designer Marina
The Star of David and the Menorah are ubiquitous symbols of Old Testament teachings. They are both ancient and have their roots deeply planted in the Bible. The Star of David represents the shield the great King David carried into battle to fight in the name of the One, True God. His true shield was his faith in the Lord and the protection that God gives His children. The Menorah was created when God revealed its design to Moses in Exodus 25:31-40. The seven branch candlestick represents God's creation: six candles for the six days of creation and the center candle, the seventh, for the Sabbath. It also represents the light that God shines unto the world.
This Star of David and Menorah pendant is gold-filled and rectangular shaped. The symbols gleam in gold as they are set on a beautiful Israeli blue background.
Approximate dimensions: 1 inch x 1/4 inch | 2.5 cm x .5 cm
Review this product
Please log into your account to Add Your Comment.