Grafted In Pendant with Garnets
Grafted In Pendant, Gold Filled with Garnets
Item # : PN4192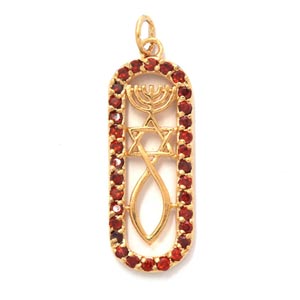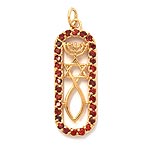 Stock Review
Size:One Size Stone Color:Red Top Color:Gold - Out Of Stock
Gold Filled Grafted In Pendant with Garnets
By Israeli Jewelry Designer Marina
This Messianic Pendant with the Grafted In symbol features three meaningful symbols in one -- the Menorah, the Star of David and the Fish of Jesus. This lovely Messianic Seal of Jerusalem is set in an oval of red garnet stones. The garnet has Biblical significance in that it was one of the stone of the High Priest's Breastplate and Noah hung a garnet on the Ark to illuminate his way through the flood waters.
This Grafted In Pendant is gold filled and set within an oval of garnets.
Approximate dimensions:
1 1/4 inch x 1/2 inch / 3 cm x 1.3 cm
Review this product
Please log into your account to Add Your Comment.