Gold-filled Grafted In Pendant with Chai
Messianic Seal Pendant with Chai, Gold-filled
Item # : PN465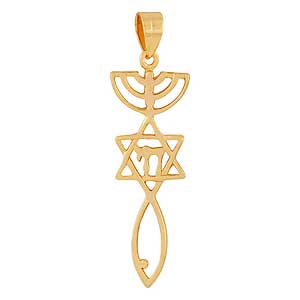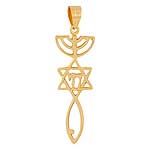 Stock Review
Material Color:Yellow Gold Size:One Size Top Color:Gold - Out Of Stock
Gold-filled Grafted In Pendant with Chai
by Israeli jewelry designer Marina
Emblems of faith symbolize one's beliefs and displaying those emblems show the importance in one's life. Such emblems include the Star of David, the Menorah and the Fish. The Fish is a traditional symbol of Christianity and more specifically of Jesus Christ. The Star of David and Menorah are very recognizable symbols of Judaism; the former represents the great Jewish King David and the later represents the Temple in Jerusalem. These three great symbols were combined by First Century Believers in Yeshua into on magnificent symbol when has come to be known as the Messianic Seal or the Grafted In.

This Messianic Seal pendant has been created in gold-fill. At the very center of the Grafted In symbol is the Hebrew word חי or Chai meaning life. Placing this very special word at the center of not only the Grafted In, but the Star of David within tells us that this is a Living Faith.
Approximate dimensions: 1 1/4 inches x 1/2 inch | 3 cm x 1.3 cm

Review this product
Please log into your account to Add Your Comment.