Sterling Silver Star of David Pendant with Multi-Colored Crystals
Star of David Pendant. Sterling Silver with Multi-Colored Crystals. Size: 3/4 inch | 2 cm
Item # : PN0541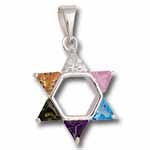 Stock Review
Size:Small - In Stock
Size:Medium - In Stock
Size:Large - In Stock
Sterling Silver Star of David Pendant with Multi-Colored Crystals

The Star of David is one of the most recognized symbols of the Hebraic faith. Based on the shape of King David's shield, it is said that the six points of the star represent the four directions on the compass as well and the heavens above and the earth below, all falling under the purview of the Almighty.

Size - 3/4 inch / 2 cm

A different colored crystal set at each corner of the Star of David (colors of crystals may vary).

Review this product
Please log into your account to Add Your Comment.