Sterling Silver Roman Glass Star of David Pendant
Set with 2000 year old Ancient Roman Glass
Item # : PN107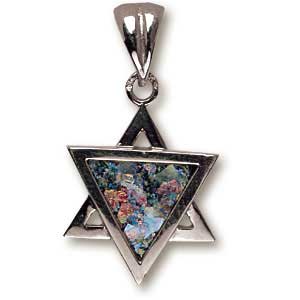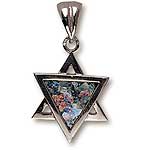 Stock Review
Material:Silver - In Stock
Sterling Silver Roman Glass Star of David Pendant

Height - 3/4"

Roman Glass was produced by the ancient civilizations of the Holy Land approximately 2000 years ago. Discovered in archeological sites throughout Israel, each piece of Roman Glass has endured the wind and weather to form the unique colors and textures seen on each piece today. Like an individual's spiritually journey, each piece of Roman Glass is shaped by its own passage through the Holy Land. This makes each piece of Roman Glass Jewelry is a very special one-of-a-kind piece.

The Star of David ( Shield of David) is the symbol most commonly associated with Judaism today. It represents the shape of King David's shield. The Star of David is the universally recognized symbol of Jewry. It appears on the flag of the state of Israel.

*Please,note the colour of glass may vary.
*Includes Certificate of Authenticity.

*Roman Glass does not like water.
Please do not get your Roman Glass wet.

Review this product
Please log into your account to Add Your Comment.