Sterling Silver Menorah Pendant
Menorah Pendant. Sterling Silver. 3/4 inch / 2 cm
Item # : BY1506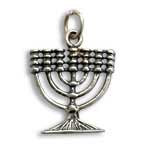 Stock Review
Chain Length (Required):Pendant Only Size:One Size - In Stock
Sterling Silver Menorah Pendant



The Menorah is not only the oldest Jewish symbol, it is also the official emblem of the state of Israel. Its original design was given to Moses on Mt.Sinai, and it was moulded from one solid gold piece. The Menorah stood in the Temple in Jerusalem. Its presence is a reminder to Israel that she will be a Light to the nations.
Height - .3/4 inch / 2 cm
Review this product
Please log into your account to Add Your Comment.