Yellow and White Gold-filled Star of David Pendant Yellow and White Gold-filled Star of David Pendant
Star of David, Yellow and White Gold-filled
Item # : PN445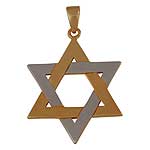 Stock Review
Material Color:Yellow Gold Size:One Size - In Stock
Yellow and White Gold-filled Star of David Pendant
by Israeli jewelry designer Marina
The Star of David has become the most well-known symbol of the Judaic faith. It relates feelings of faith, protection and strenght. The Star of David or Magan David in Hebrew originates from the shape of the shield Kind David carried into battle. The innovative shape of the six-pointed star was strong and protected its user. But King David knew that his true strenght and protection came from the Lord. Therefore, this shield that David carried became a symbol of His faith in the One, True God as it still is today.
This Star of David Pendant is formed of two interlocing triangles, one in white gold-fill and the other in yellow gold fill. The result is a chic and memorable pendant.
Approximate dimensions: 1 1/2 inches x 1 1/2 inches | 3.8 cm x 3.8 cm
Review this product
Please log into your account to Add Your Comment.