Yellow Gold-filled Star of David Pendant with Zircons
Star of David Pendant, Yellow Gold-Filled with Zircons
Item # : PN446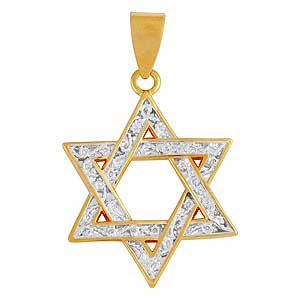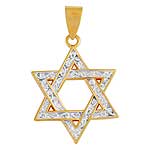 Stock Review
Material Color:Yellow Gold Size:One Size - In Stock
Yellow Gold-filled Star of David Pendant with Zircons
by Israeli jewelry designer Marina
The Star of David, the Judaic symbol of protection and faith, illustrates that God rules over the universe and protects us from all six directions: North, South, East, West, Up and Down. Some believe the middle of the star represents the spiritual dimension, a life past that which is on Earth. This symbol can remind us that just as King David was able to defeat armies more powerful than his own through faith in God, our own faith in God can motivate us achieve our goals and work towards righteous acts.
This Star of David pendant is white gold-filled and bejeweled with shimmering zircons.
Approximate dimensions: 1 inch x 3/4 inch | 2.5 cm x 2 cm
Review this product
Please log into your account to Add Your Comment.