White gold-filled Star of David Pendant with Zircons
Star of David Pendant, White Gold-filled with Zircon Stones
Item # : PN427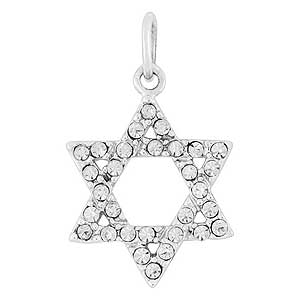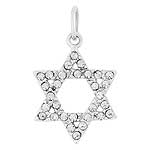 Stock Review
Material Color:White Gold Size:One Size Stone Color:Clear - In Stock
White gold-filled Star of David Pendant with Zircons
by Israeli jewelry designer Marina
The iconic symbol of Judaism, the Star of David, evokes a plethora a sentiments – strength, faith, protection. All of these sentiments accurately describe the symbolic meaning of the emblem. The Star of David originated with King David and the innovative shape of his shield. It was discovered that two interlocking triangles made a stronger shield than the traditional shapes. The shield was strong and protective. King David above all else had faith in G-d and G-d's strength to protect him. The Star of David has come to be a symbol of faith that G-d is protecting us from all directions.

This Star of David Pendant is white gold-filled and beautifully covered with radiant round zircons.
Want the matching earrings? Get them here!
Approximate dimensions: 1/2 inch x 1/2 inch | 1.3 cm x 1.3 cm
Review this product
Please log into your account to Add Your Comment.