White Gold-filled Rough Star of David Pendant
Star of David Pendant, White Gold-filled, Rough Texture
Item # : PN441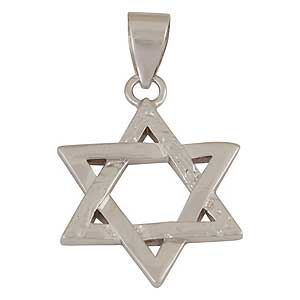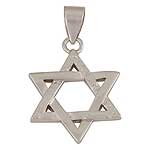 Stock Review
Material Color:White Gold Size:One Size - In Stock
White Gold-filled Rough Star of David Pendant
by Israeli jewelry designer Marina
The Star of David is a symbol of strength, protection and faith. The great Kind David carried a shield of this shape into battle. King David's deep faith in God was what truly gave him strength and protection in battle. Therefore, his shield has come to represent this protection and strength his faith provided. The two interlocking triangle which form the six-pointed star tell us that God guides and protects His faithful not only in all physical directions, but in all spiritual and emotional directions as well.
This Star of David pendant is simple and made of white gold-fill. The look is rough and organic giving it broad appeal for men and woman alike.
Approximate dimensions: 3/4 inch x 1/2 inch | 2 cm x 1.3 cm
Review this product
Please log into your account to Add Your Comment.