Gold Filled Mezuzah Pendant
Mezuzah Pendant, Gold Filled with Blue Enamel
Item # : PN400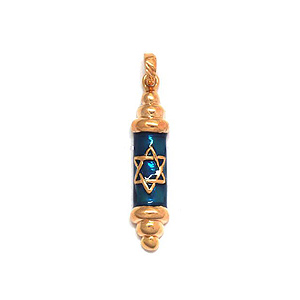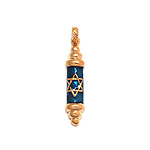 Stock Review
Material Color:Yellow Gold Size:One Size - In Stock
Gold Filled Mezuzah Pendant
By Israeli jewelry designer Marina
The Mezuzah, a traditional object on the doorpost of a home to fulfill G-d's commandment, has recently become a very popular pendant design. The wearer of mezuzah jewelry declares to the word that she or he follows G-d's commandments, just as placing a mezuzah on your home does. A mezuzah necklace can be worn by women or men to show their devotion to G-d's word.
This mezuzah pendant is gold filled with beautiful blue enamel, the color of the Israeli flag.
Height: 1.25 inches / 3 cm
Review this product
Please log into your account to Add Your Comment.