Gold-filled Jerusalem Menorah Pendant with Zircons
Menorah Pendant, Gold-filled with Jerusalem and Zircons
Item # : PN434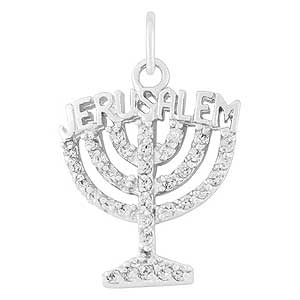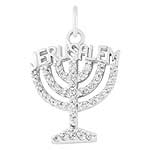 Stock Review
Language:English Material Color:White Gold Size:One Size Stone Color:Clear - In Stock
Gold-filled Jerusalem Menorah Pendant with Zircons
by Israeli jewelry designer Marina
The Menorah is the oldest symbol of Judaism and faith in the One, True G-d. It was lit by the Kohanim in the First and Second Temples and dates back to the Tabernacle in the Wilderness when G-d gave instructions for its manufacture. Symbolically the menorah is the light of G-d that guides us through the darkness. It is G-d's Word and we are meant to ignite it with our faith. Wearing this great ancient symbol keeps G-d's Word, His light and His Land close to our hearts.
This Menorah Pendant is white gold-filled and encrusted with zircons with the word "Jerusalem" as the flames of the menorah.
Approximate dimensions: 3/4 inch x 1/2 inch | 2 cm x 1.3 cm
Review this product
Please log into your account to Add Your Comment.