14kt Gold Roman Glass David's Harp Pendant
Set with 2000 year old ancient roman glass
Item # : PN079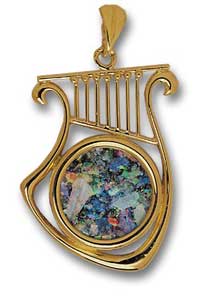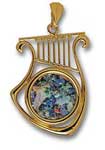 Stock Review
14kt Gold Roman Glass David's Harp Pendant

Height - 1 1/4"

Roman Glass was produced by the ancient civilizations of the Holy Land approximately 2000 years ago. Discovered in archeological sites throughout Israel, each piece of Roman Glass has endured the wind and weather to form the unique colors and textures seen on each piece today. Like an individual's spiritually journey, each piece of Roman Glass is shaped by its own passage through the Holy Land. This makes each piece of Roman Glass Jewelry is a very special one-of-a-kind piece.
Because he disobeyed God, an evil spirit was sent to torment King Saul. His attendants suggest he send for David, the son of Jesse, "a brave man and a warrior. He speaks well and is a fine-looking man. And God is with him." So Saul sent for David, "whenever the spirit from God came upon Saul, David would take his harp and play. Then relief would come to Saul; he would feel better, and the evil spirit would leave him." David was particularly legendary as a musician, and the composer of the Psalms.
*Please,note the colour of glass may vary.
*Includes Certificate of Authenticity.

*Roman Glass does not like water.
Please do not get your Roman Glass wet.

Review this product
Please log into your account to Add Your Comment.