Gold-filled Breastplate Pendant with 12 Colored Crystals
Breastplate Hoshen Pendant, Gold-filled with 12 Colored Crystals
Item # : PN426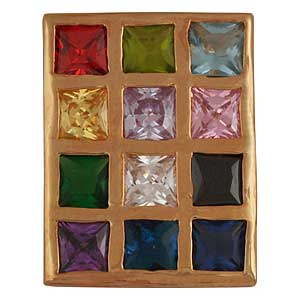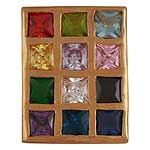 Gold-filled Breastplate Pendant with 12 Colored Crystals
by Israeli jewelry designer Marina
In Exodus 39:8-14, G-d instructed that the Hoshen stones were to be mounted on embroidered fine linen and worn by the High Priest of Israel. Today the Hoshen or Priestly Breastplate can be worn by anyone who wants to display these 12 stones representing the Tribes of Israel as a symbol of being one of G-d's children and Him the head of this household of faith.
This Hoshen Pendant is made of yellow gold-fill and 12 beautiful colored crystals.
W
ant the matching earrings? Get them here!
Approximate dimensions: 3/4 inch x 1/2 inch | 3 cm x 1.3 cm
Review this product
Please log into your account to Add Your Comment.