Gold-filled Star of David Pendant with Blue Enamel and Zircons
Star of David Pendant, Gold-filled with Blue Enamel and Zircons
Item # : PN435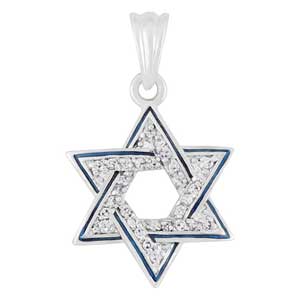 Stock Review
Material Color:White Gold Size:One Size Stone Color:Clear - Out Of Stock
Gold-filled Star of David Pendant with Blue Enamel and Zircons
by Israeli jewelry designer Marina
As King David himself wrote in the Book of Psalms, "But you, Lord, are a shield around me," (3:3). It is apparent that King David's security in battle did not come from his physical shield, but from G-d. In Hebrew the Star of David is called the Magen David or Shield of David. I can be surmised that the Shield of David is not a physical shield, but his true shield, his faith in G-d. The Star of David symbolizes eternal faith in G-d no matter what adversity life brings.
This Star of David pendant is made of gold-fill and encrusted with luminescent zircons and a blue enamel highlight along the outside.
Approximate dimensions: 3/4 inch x 3/4 inch | 2 cm x 2 cm
Review this product
Please log into your account to Add Your Comment.