Oval Grafted In Gold-Filled and Onyx Pendant
Created by Marina, well-known Israeli jewelry designer. Oval shaped Messianic symbol pendant made from gold-fill and the stone turquoise. Height: 1 inch | 2.5 cm
Item # : PN413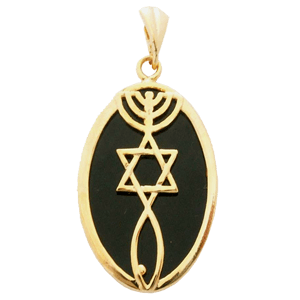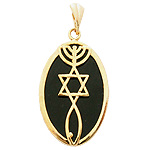 Stock Review
Size:One Size Top Color:Gold - Out Of Stock
Oval Grafted In Gold-Filled and Turquoise Pendant
By Israeli jewelry designer Marina

The most popular Messianic pendant is the Grafted In pendant. Three other symbols, the fish, Star of David and menorah, are fused together to create the quintessential Grafted In Messianic emblem. This delightfully crafted oval-shaped Grafted In pendant is gold filled and features onyx stone in the background. The gold is a lovely contrast to the stunning stark black of the onyx.
Height: 1 inch | 2.5 cm
Review this product
Please log into your account to Add Your Comment.