Square Eilat Stone Silver Pendant
Sterling silver pendant set with a bright blue-green Eilate Stone. The design has a vintage feel and is edged with marcasite.
Item # : PN513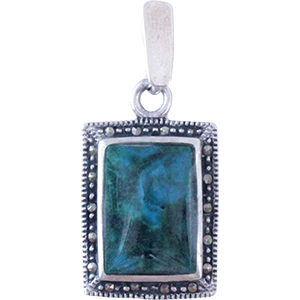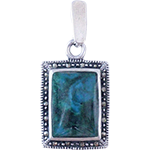 Stock Review
Size:Large - In Stock
Size:Small - In Stock
Vintage style Eilat Stone Pendant.
This exquisite square shaped Eilat stone pendant is stetted in a vintage design with marcasite around makes a truly stunning piece.

Size :
Large 3/4 X 1/2 Inches / 2 X 1.3 cm
Small 1/2 x 1/4 inches / 1.5 cm x 1 cm

The Eilat stone is the National stone of Israel and receives its name from Israel's southernmost city. These beautiful stones has existed in that location since the Bronze age and were mined under the supervision of King Solomon, hence they are also referred to as the King Solomon stone. The stone is made up of many of the well known copper based minerals including Azurite, Turquoise and Malachite, known for their healing properties and their beautiful deep shades of blue and green.
Review this product
Please log into your account to Add Your Comment.