Gold-filled Jerusalem Cross Pendant with Red Garnet
Jerusalem Cross Pendant, Gold-filled with Red Garnet
Item # : PN428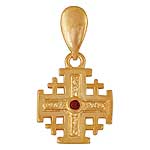 Gold-filled Jerusalem Cross Pendant with Red Garnet
by Israeli jewelry designer Marina
The Jerusalem Cross is comprised of one large cross with four smaller crosses in the corners – the central cross representing Jesus and the smaller the four gospels and the four directions in which to spread the Word of G-d. While some may hesitate to wear a Jerusalem Cross because its origins are in the Crusades, this is not necessary. The modern interpretation of the Jerusalem Cross is for anyone who prays for the peace of Jerusalem and keeps Jerusalem in their hearts.
This Jerusalem Cross Pendant is made of yellow gold-fill with a genuine red garnet at its center representing the sacrifice of Jesus Christ.
Dimensions: 1/2 x 1/2 inch | 1.3 cm x 1.3 cm
Review this product
Please log into your account to Add Your Comment.