Gold-filled Tri-colored Jerusalem Cross Pendant
Jerusalem Cross Pendant, Tri-colored Gold-filled
Item # : PN437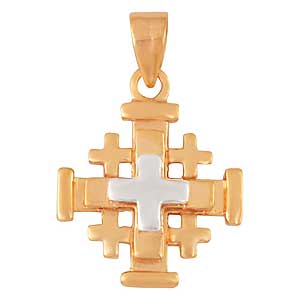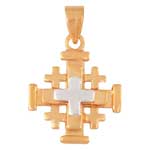 Stock Review
Material Color:Yellow Gold Size:One Size Top Color:Gold - In Stock
Gold-filled Tri-colored Jerusalem Cross Pendant
by Israeli jewelry designer Marina
If you pray for the peace of Jerusalem and want to hold the Holy Land close to your heart, then perhaps the Jerusalem Cross is the right symbol for you. It is true that the Jerusalem Cross has its origins in the Crusades, however, it has come to mean so much more. The Jerusalem Cross embodies the connection of Jesus (Yeshua), the Holy Land and the importance of G-d's Word in the world. With its definitive shape for four smaller symmetrical crosses lying at the corners of one large cross, the Jerusalem Cross is steeped in meaning. The smaller crosses represent the four Gospels and the four directions into which to carry the Word of the Gospels. The large inner cross represents Jesus and His holy city of Jerusalem.
This Jerusalem Cross Pendant is of tri-colored gold-fill. Presented in three layers, the tri-colors are white gold, rose gold and yellow gold.
Approximate Dimensions: 1/2 inch x 1/2 inch | 1.3 cm x 1.3 cm
Review this product
Please log into your account to Add Your Comment.