Gold-filled Jerusalem Cross Pendant
Jerusalem Cross Pendant, Yellow Gold-filled
Item # : PN438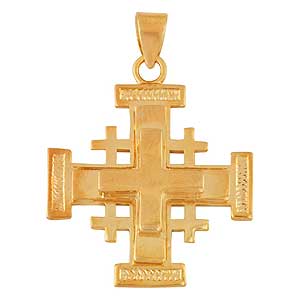 Stock Review
Material Color:Yellow Gold Size:One Size Top Color:Gold - In Stock
Gold-filled Jerusalem Cross Pendant
by Israeli jewelry designer Marina
The beauty of the Jerusalem Cross is only outshone by its rich and deep spiritual significance. Having a somewhat ominous history in the Crusades, the Jerusalem Cross has endured and become the symbol for those who love and pray for Jerusalem and the Holy Land. The symbolism of the Jerusalem cross just furthers its relevance as an important emblem of Christianity. The Jerusalem Cross is formed of five separate symmetrical crosses – a large cross in the center and four smaller crosses in the corners. The large cross represents Jesus and Jerusalem – the center of it all. The four smaller crosses represent the original four Evangelists and the four corners of the world in which to spread the Good Word.
This Jerusalem Cross Pendant is yellow gold-filled and formed in a very class style.
Approximate Dimensions: 1 inch x 1 inch | 2.5 cm x 2.5 cm
Review this product
Please log into your account to Add Your Comment.