Jerusalem Stone and Silver Hand of Miriam Necklace
Splendid rectangular pendant created from an authentic piece of Jerusalem Stone encircled by sterling silver. The stone is etched with a Western Wall brick pattern with a sterling silver Hand of Miriam. Dimensions: 1 x 1/4 inch | 2.2 x 3.2 cm, Chain Length: 19 inches | 50 cm
Item # : PN518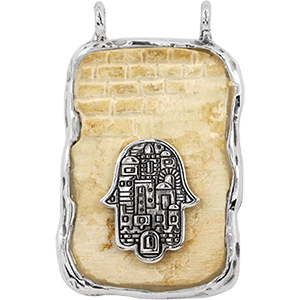 Stock Review
Material:Silver - In Stock
Jerusalem Stone and Silver Hand of Miriam Necklace

Splendid rectangular pendant created from an authentic piece of Jerusalem Stone encircled by sterling silver. The stone is etched with a Western Wall brick pattern with a sterling silver Hand of Miriam.

Miriam, the sister of Mosese and Aaron, was the first leader of Jewish women. Her hand was intergral in singing the first free praises by women to the One True God after the Red Sea swallowd Pharos' army and they new God has saved them. This we know from Exodus 15:20:21, "Then Miriam the prophet, Aaron's sister, took a timbrel in her hand, and all the women followed her, with timbrels and dancing. Miriam sang to them:
"Sing to the Lord,
for he is highly exalted.
Both horse and driver
he has hurled into the sea."

The emotion provoking phase "Jerusalem of Gold' comes to life when wearing jewelry made from Jerusalem Stone. For 3000 years the Holy City of Jerusalem has been constructed from a limestone referred as Jerusalem Stone. It is said that Jerusalem is made of gold from the glow of the setting sun on the lightly-colored stones, creating a golden-hued reflection. Even today all buildings in Jerusalem from synagogues to grocery stores must be clad in the magnificent stone. It gives the city a warm and special feel, just as it does this pendant.

Dimensions: 1 x 1/4 inch | 2.2 x 3.2 cm, Chain Length: 19 inches | 50 cm
Review this product
Please log into your account to Add Your Comment.